For my ninth course Sosuke Aoshima, whose business card says he's the 'directeur', the manager of L'Effervescence, top chef Shinobu Namae's two star Tokyo restaurant, asked me if I wanted cheese or a salad.
I immediately chose cheese, instinctively snubbing the salad, which I probably will always associate in my mind with rabbit food. It's a flaw in my upbringing, because being served a salad, without any meat or fish, was for my father the same as being treated as a pet rabbit. He would never miss the chance to loudly and bombastically complain about it.
So despite all the delicious salads I have had in my life, I opted for cheese, and immediately saw, in the expression of Aoshima's face, that I had made the wrong choice, the ridiculous choice even. "There will be four cheeses, of which only one is Japanese", he said, perhaps trying to lessen the appeal of the cheese for me, subtly manipulating me into going for the salad.
Work of art
I gave in and asked for the salad. I should have known, since I had already been served eight spectacular dishes, that this would not be just a 'salad'. It turned out to be the mother of all salads, a work of art. A brilliant composition of colors, structures and tastes. And it was, in the strictest sense, exactly what my father would have deemed to be rabbit food.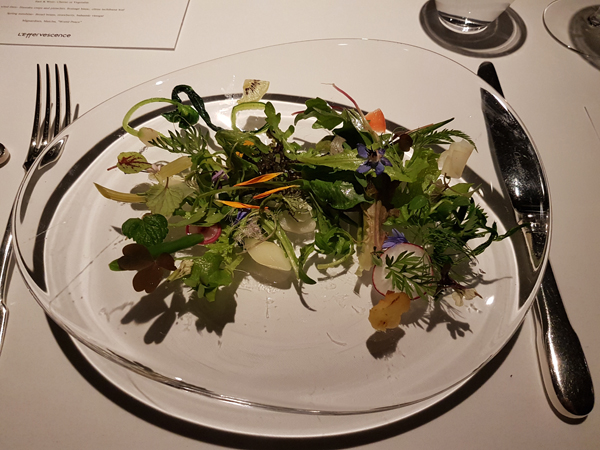 The salad consisted of leafs, weeds, flowers, vegetables and roots with no dressing. They were carefully selected from different farms from all over Japan: beans and carrots from eco-farm Asano in Chiba, red basil, dill, chickweed and many other ingredients from Kajiya farm in Hiroshima, Fuji flower and black Locust flower from Tsuchikorobi farm in Yamanashi, and so on.
A plethora of flavours and sensations on one plate, a humble salad equaling a genius work of poetry. An impressionist painting of spring for blind people, a musical ode to nature for the deaf.
I won't say this moved me to tears, I am not that emotional. It just made me feel a little ashamed for snubbing it at first. And I am thankful to Aoshima for setting me straight.
Culinary gems
For about five years I have been making a yearly visit to L'Effervescence, the first time together with Hassnae, who finds all these culinary gems wherever we go, and alone ever since (Hassnae not being able, because of professional obligations, to join me on my yearly spring visit to Tokyo, my second Great Love in life). I always get a warm welcome by Aoshima, who has an incredible memory, remembering the smallest details of our past conversations and knowing exactly what my preferences are.
Last year I had to do without l'Effervescence, because the restaurant was being renovated. This was no calamity, because there is a vast armada of excellent restaurants in Tokyo to choose from, but it does feel a little like celebrating Easter without eggs.
L'effervescence was nevertheless included on Aicha Qandisha's annual list of greatest restaurants of the world late last year and Aoshima emphatically told me to tell Hassnae this filled both him and Namae with great pride. Of course we realize Aicha Qandisha is nothing compared to Michelin and Pellegrino and all those other renowned institutions praising the hell out of L'Effervescence, but it does fill us with pride, knowing the great Namae had both noticed and remembered the mention by AQ.
Celebration of spring
L'effervescence serves French-style food but with strong Japanese influences. I don't mean just influences from the Japanese kitchen but also from Japanese art, philosophy and mentality. That salad, for instance, was a typical Japanese celebration of Spring, a common theme in Japanese art and poetry. Namae's signature dish, a Tokyo turnip cooked for four hours, is a work of minimalism in which the few other ingredients – parsley, Basque ham and small pieces of brioche, mainly serve to accentuate, not change in any way, the full taste and crisp structure of the turnip.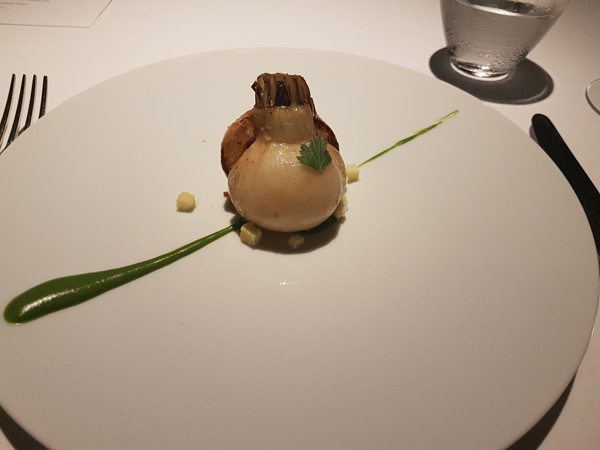 Namae always tries to tell a story with his dishes, they're often memories of his own, apparently happy youth. There will always be a new version of his apple pie on the menu, which he gives a number. The apple pie is based on that of McDonald's, a nauseatingly sweet and piping hot sticky substance in a crust of dough, which he liked as a child. He serves his apple pie in the same small red box McDonald's does, though his pie has less and less to do with the original with every new version. This time the pie – number 28 – was filled with a mix of firefly squid, fennel and Japanese knotweed. It was delicious.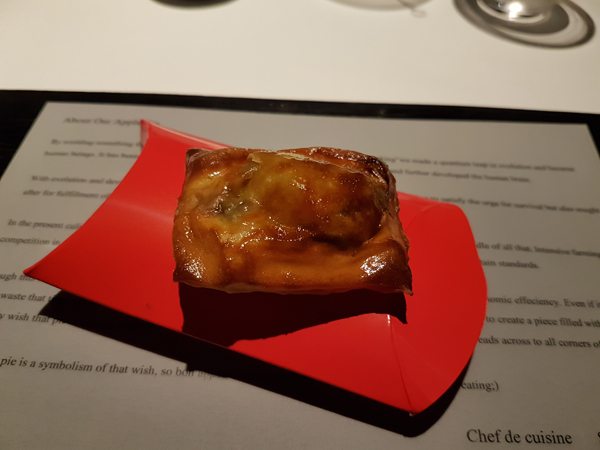 A piece of raw bonito – May is the season for bonito, or katsuo, in Japan – with chrysanthemum leaf, a sauce of white and a mixture of grapefruit, ginger and shottsuru reduction (shottsuru is a fish) melted in the mouth. It was wonderful.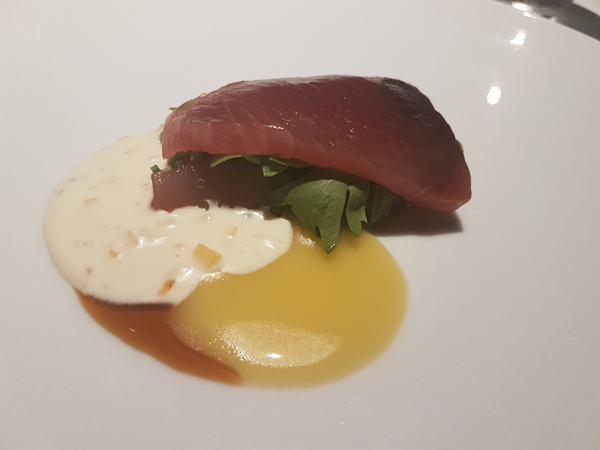 A soup of sweet onion, guinea fowl and bamboo shoot, adorned with a lick of cultured cream and shrimp caramel was just perfect with every little accent in perfect harmony.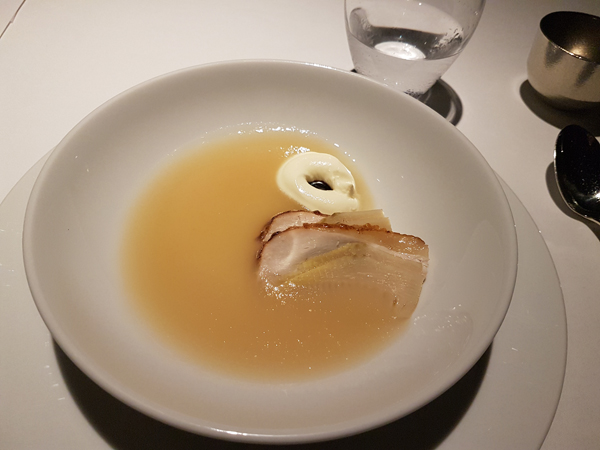 The main dish, perfectly roasted black pork with Japanese blue cheese and sea lettuce, so soft and savoury with subtle sweet undertones, truly was the apotheosis of what came before.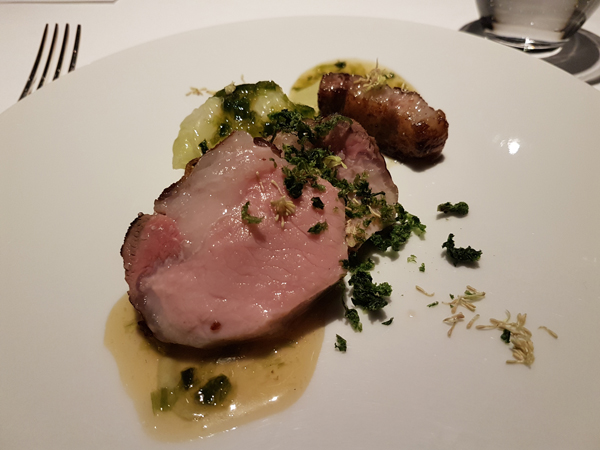 With that wonderful salad following it, preparing me for the finale, a threesome of typically Japanese desserts, not quite sweet, not quite savoury but very tasty, and light.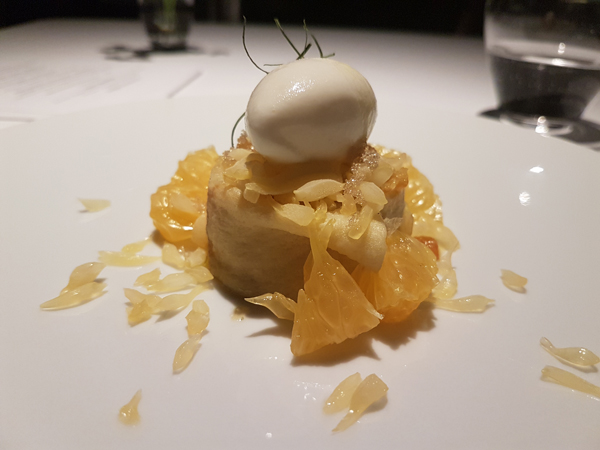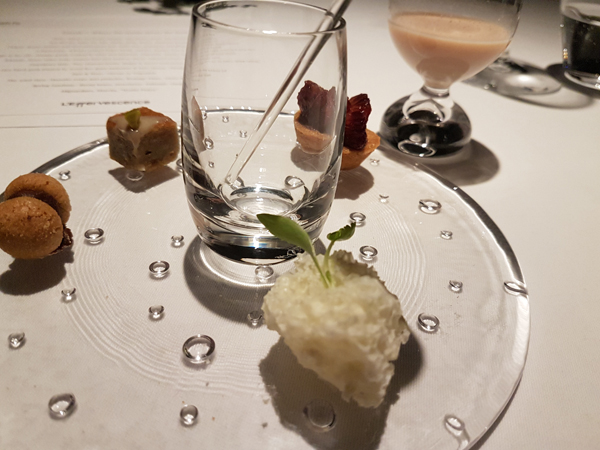 Oh, and I almost forgot to tell you about the tea ceremony, performed by Aoshima especially for me.
Rich variety of sakes
All this was accompanied by some wonderful wines from all over Europe and some of the greatest sakes I ever tasted. One, for instance, tasted like a bone dry Sherry but also much like a Chinese rice wine, and the sommelier offered me a sake as a digestive that was like creamy chocolate.
I have been a passionate lover of mainly white wines forever, but lately I prefer sakes, ever since I discovered how rich the variety of sakes is, how subtle the flavours without ever having the unpleasant acidities that sometimes turn me off even the finest wines.
The diner at L'Effervescence was the final dinner of my stay in Tokyo, also a tradition: the last night I always dine at L'Effervescence so I'll know the ending will be inevitably sad and melancholic but perfect.
I walked to my hotel through nightly Tokyo, praying to the city to give it my thanks. Until next year, dear Tokyo, dear Aoshima-san and dear Namae-sensei, Inchallah.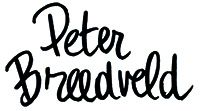 info[at]aichaqandisha.nl