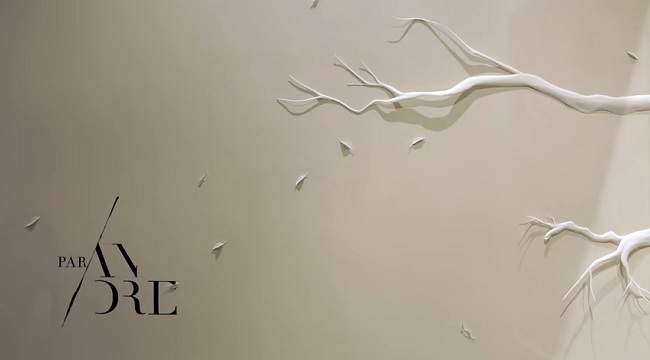 photos: © Aicha Qandisha
It's at the end of an absolutely delightful lunch that chef André Chiang joins us to inform if all was good. 'All being good' doesn't begin to describe the lavish meal we had at the internationally renowned and lauded Restaurant André.
You never know if a celebrated restaurant will live up to its reputation. Famous chefs have fallen from their pedestal in the past; so we always venture out with a sense of restrained excitement.
Taiwanese André Chiang was schooled in France and came back to Singapore six years ago. He found himself all alone; nobody knew him and he had no friends, he recounted with a touch of drama. However, his star rose quickly and now his restaurant is considered the iconic Singaporean restaurant. The competition is fierce: there are so many fabulous top-notch restaurants in lovely Singapore, not to mention the famous hawking centres where you can have a tasty meal for very little money. So if you want to stay ahead and distinguish yourself, you have to step up your culinary game.
We were welcomed by his asset, a Brazilian-French maitre d' who entertained us all afternoon and was an absolute joy.
Lunch at André started with a 'snack' or amuse bouch of cauliflower with truffel and parmesan cheese. A very tasty, light and salty start of the meal.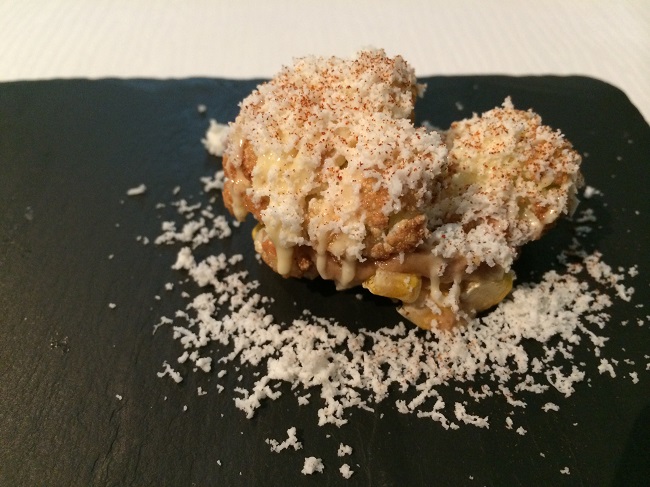 We then moved on to the first course of summer vegetables with pine nut praline and black bone chicken egg. Yet again a very light, crunchy dish that tasted of summer and siësta afternoons.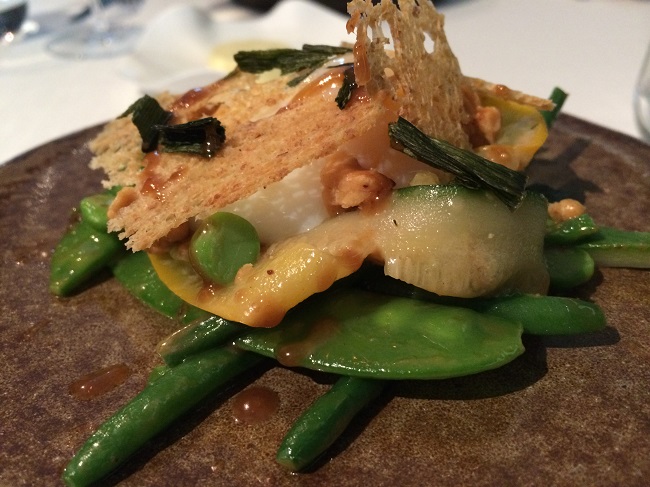 The feeling of summer at the Méditerranéee stayed with us for the next course which was cappelini of sakura ebi (shrimps), japanese chive, kombu, chili and pepper. An Italian dish with Japanese elements.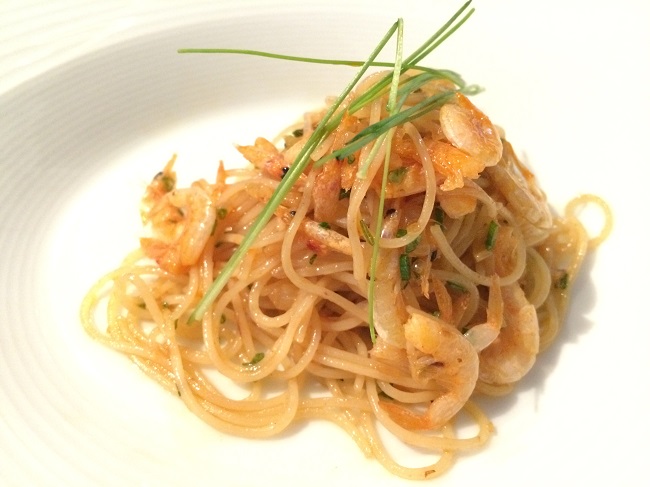 This was followed by sweet corn custard with steamed clams à la minute and tasmania kelp coulis. Take a look at the picture.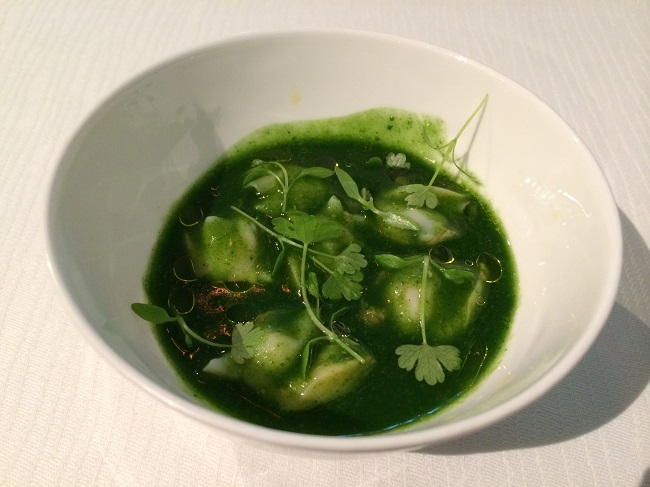 It doesn't look yummy, does it. But wait till you taste it: absolutely divine. I love it when a dish exceeds my expectations and even shatters my prejudices. The sweetness of the custard was in perfect harmony with the 'greenish' flavour of the kelp.
Then followed a charcoal grilled black cod, soubise and burnt cabbage, jus de cuisson and smoked oil. Full of taste with that typical and lovely smell of charcoal.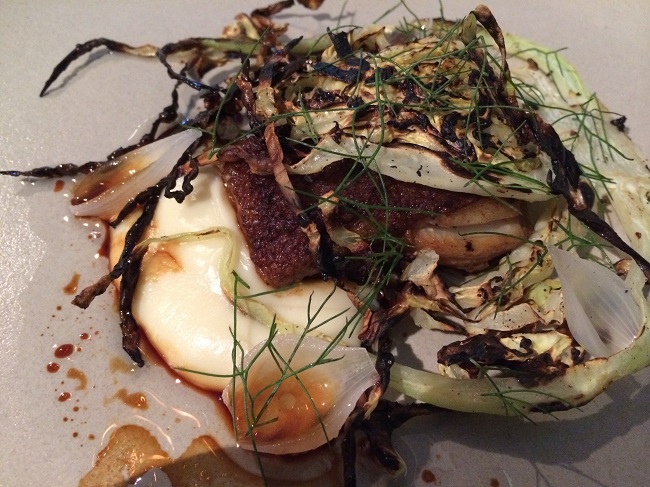 The main dish consisted of glazed quail breast à la plancha, textures of watercress, mushroom and fromage blanc.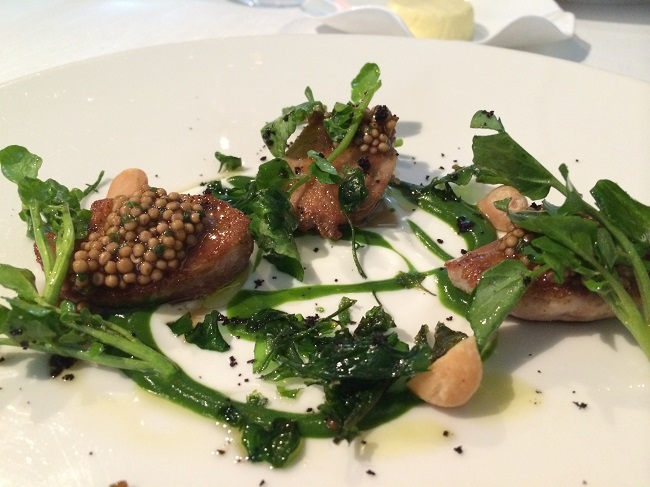 The macadamia nut was a perfect addition to the dish which was very rich in flavour, yet light on the stomach.
Dessert consisted of mandarin, apricot, cinnamon, pain d'epices and white peach sorbet.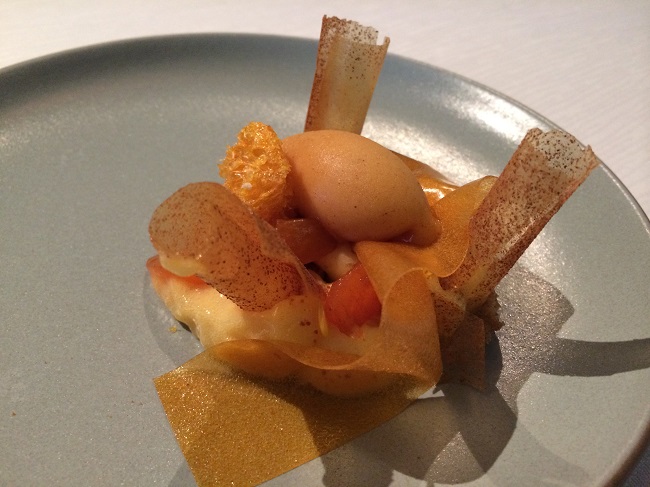 A feast for the senses and taste buds.
André is proud of his restaurant and rightly so. It is highly acclaimed (if you splash out do so here) and it is the only restaurant in Singapore in a building of its own. Most of the top restaurants in Asia are located in skyscrapers and exclusive hotels (finding them is very often a near mission impossible), but not Restaurant André which is located in Chinatown, next to the New Majestic Hotel .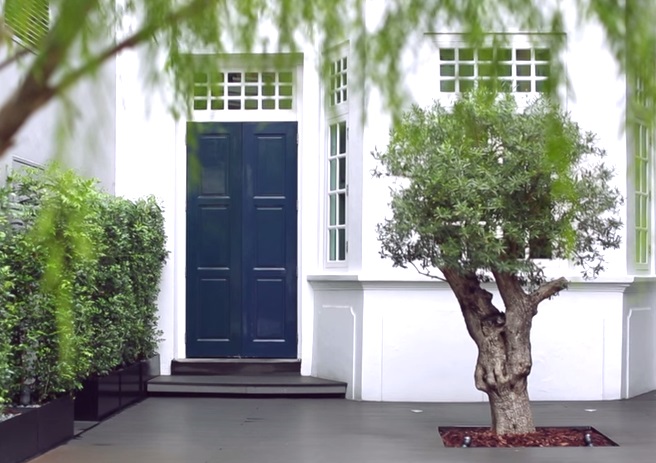 Majestically, indeed, with a colonial and French touch to it and with the famous blue door.
The only thing missing during this fabulous lunch were the petits-fours after dessert. That's really unforgivable, but is perhaps in line with André's wish to keep lunch light 'so you don't get sleepy afterwards' (I don't mind feeling sleepy, I really need my friandises).
Each dish at dinner has a special theme, based on his Octaphilosophy 'where primal aromas and texture evoke the endless trail of memories.' He explained: 'I keep lunch very simple and light. Lunch is based on the products that I receive in the morning. Within two hours we decide on the menu. So we improvise a lot. Dinner is much more complex and dramatic.'
We glanced back and forth at our scrumptious looking dessert and chef André Chiang with a feeling of satisfaction and disappointment. We wanted culinary drama. We had to experience his complex dishes.
Ever since we had lunch at André, all we can think of is go back to Singapore and have dinner at André.
hassnae[at]aichaqandisha.nl