Our yearly list of world's best restaurants is getting harder and harder to compile. There are so many wonderful restaurants and it's a torture to try and make a ranking. A fun torture, that is. Because before we even start to think of our nummers 25 to 1, there's the actual tasting. Flying to new and old places, discovering exciting flavours, unknown ingredients and connecting with chefs all over the world who enrich our lives and help us escape the numbing daily reality of work, the rise of the political right, the increase of racism, intolerance and inequality and the lack of leadership.
It's quite a lot to fathom, if you think about it, but the beauty of the best restaurants and most outstanding chefs, is that they have this unique talent to draw you into their tasteful world and let you forget about everything for as long as you're a guest in their universe.
This is our fourth year. Our previous editions can be found here, here and here. The first year we explained who we are: three food loving journalists who pay for everything themselves and hence feel it in their pockets when restaurants don't deliver.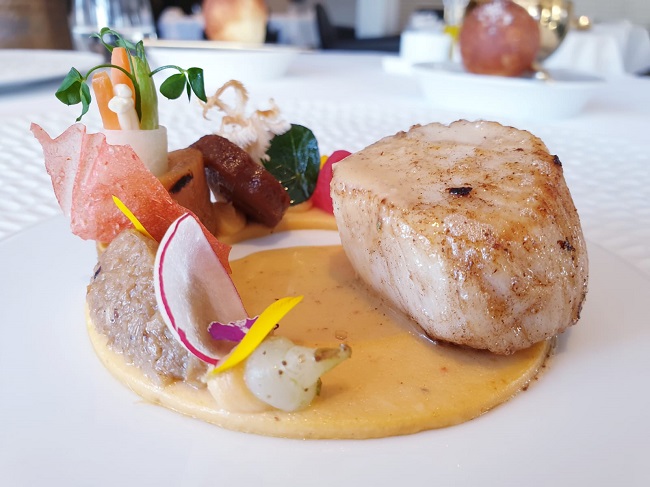 Being self-sufficient also means we're limited in our possibilities and resources. There are still so many countries we'd like to explore and restaurants we'd love to discover. So this list is hopelessly incomplete (we still haven't made it to Peru), but then most lists are. We're very happy to include some middle-eastern countries this year, but our goal is to slowly expand and include more Arab and African countries, because they are always overlooked.
Personality
We have to work to make a living, just like most people, and we're usually broke after each trip. But we work independently, choose independently and really don't care what other guides say: all we're interested in is exceptional food and warm hospitality that makes us feel welcome, even appreciated as guests.
Exceptional food comes in all shapes and forms: it can be a plate of simply prepared chicken, a slice of pizza or this incredible artsy starter prepared with the latest of gadgets. Exceptional food is food that touches you, that cheers you up, it lets you forget bad things or brings up fond memories. And it is tasty. Just bloody tasty, so good you want more of it, you carry it with you as a beautiful experience and you long for it.
In order for food to be really exceptional, you need personality. Last year our emphasis was on diversity: 'Not out of political correctnes, but because diversity is wealth. It opens new perspectives, new doors, new insights and new experiences', we wrote.
This year we would like to focus on personality. Because true personality means authenticity and diversity. We can all learn how to cook, we can even learn how to impress people with fancy stripes and jelly dots on the plate. But you can't cheat in taste. It's the personality of the chef that makes a dish rise above the average or above of what is expected. The more personality chefs put in their food, the more layered and interesting it becomes.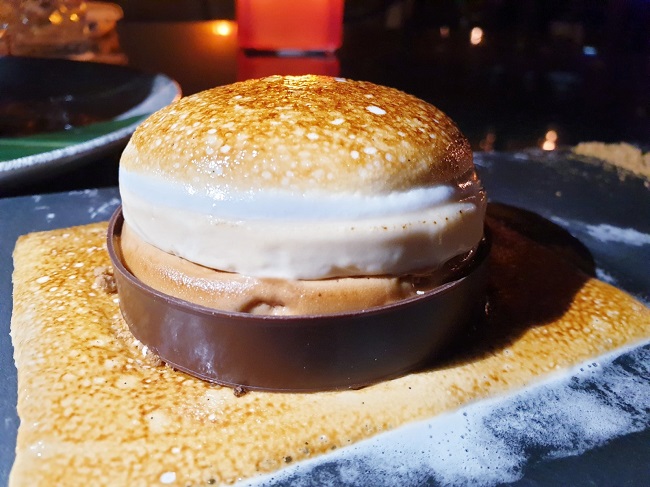 Personality implies, in our book, also gender diversity. Last year we were happy to include four female chefs in our list, this year we have an impressive eight female chefs gracing our list of 25 best restaurants in the world. Like we wrote last year: 'Diversity is not only a conscious choice, but also a mindset. It's the constant awareness that there is more worth discovering and including.'
Nightmarish
And we have discovered some magical places this year. Before we start our countdown, first the disappointment of the year: DSTAgE in Madrid won our very first award in 2016 but is off our list. The food on our last visit was horrible. We had something from the sea that looked (and felt) like a piece of cut penis and we were served burnt collagen. We thought collagen was only used for plump lips. A very saddening experience, because chef Diego Guerrero used to be one of our favourites, but we have no idea what has gotten into him.
Another traumatizing experience was also in Madrid, at sushi restaurant Kappo where we were treated to the worst sushi and the chef's dirty finger nails as his fingers tried to keep our nigiri sushi together. Nightmarish. Sometimes you know it the second you set foot in a restaurant that it's going to be bad, but the staff had already noticed us and it was too late to run.
But there were also many wonderful restaurants that didn't make it to our list, but are worth mentioning. Lebanese Ayamna in Dubai, for instance. The freak shakes at the Black Tap in Dubai and Singapore. Morimoto in Dubai as well, not because of the decent sushi, but because of the s'more dessert of dark brown sugar graham, salted milk chocolate mousse and toasted marshmallow. It was positively perfect and easily one of the best desserts of 2019. I have fond memoires of the Dubai trips and hope to go back next year to try some more restaurants.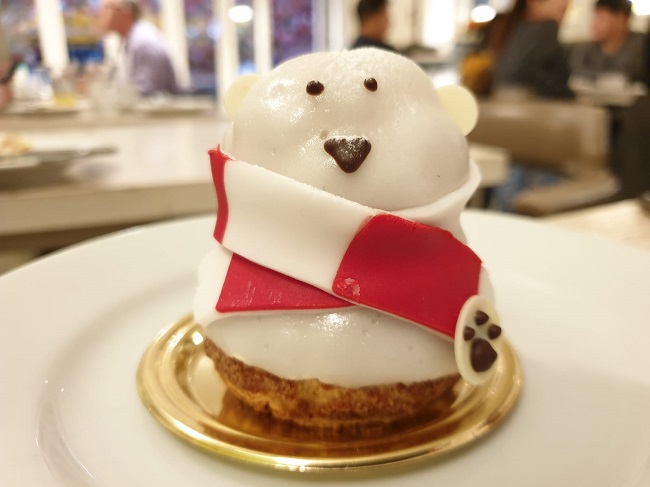 In London we loved Momo. If you ignore the Instragram crowd and vibe, you're left with the tasty food. Oka in Paris integrates French and Brazilian food and the result is worth trying. Pity the staff were so pushy -kind but pushy. For the best in Holland, do check our list of best Dutch chefs and restaurants 2019.
We still love Dominique Ansel, Cédric Grolet, Pierre Hermé (Ispahan pain perdu! *swoon*) and Yann Couvreur, but we've decided to dedicate another post to the best patisserie.
Finally two more female chefs worth mentioning: Fumi Takeuchi's Sushi Take in Tokyo and Liza Asseily's Liza Beirut.
Okay, enough. Drums please. On to our very personal, highly subjective list of best restaurants 2019!
25 Gucci Osteria, Florence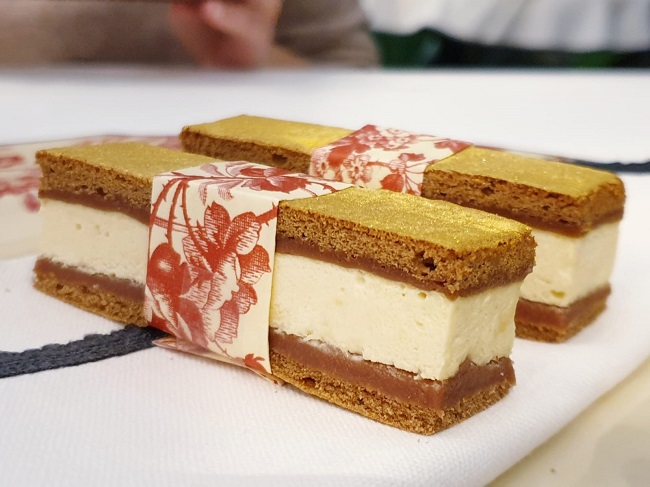 Our first female chef on the list, Karime Lopez. No doubt about it: the food at Gucci Osteria is amazing. We enjoyed every bite of it. But when you, as a chef, decide to say hello to only some of your guests and exclude others, you're a pretty bad host. Going to a restaurant is like visiting the chef's home, there's a sense of intimacy and trust. And you really have no talent for the hospitality business if you don't treat your guests equally. As if that wasn't enough, we were stared out of the restaurant while still having a pot of tea in front of us. Or how a perfectly enjoyable meal was ruined by chef and staff. And the loud, noisy, very present American journalist next to us.
24 Afuri, Tokyo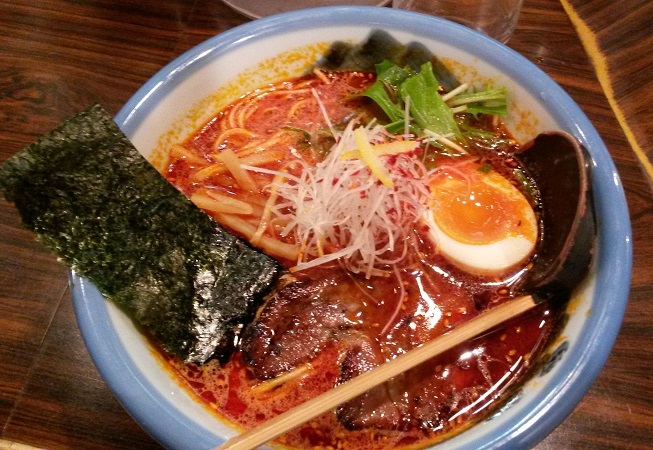 The ultimate bowl of perfect comfort food. There are so many great ramen restaurants, but we remain loyal fans of the chicken-based stock with that wonderful dash of yuzu.
23 Sabor, London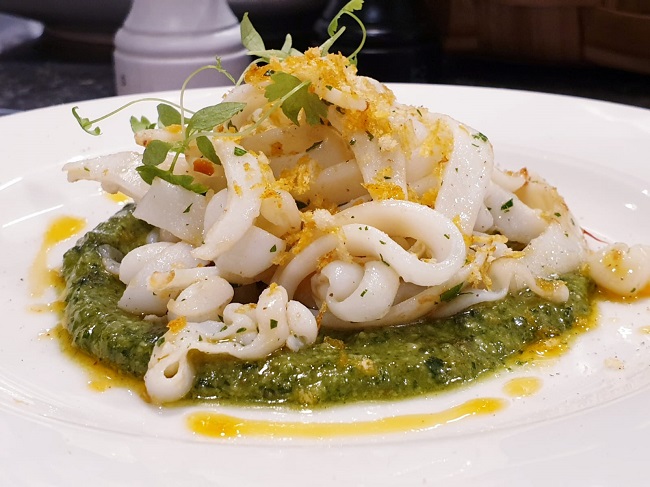 Outstanding Spanish food in the heart of London thanks to our second female chef on this year's list: Nieves Barragán Mohacho. At Sabor you sit a the counter and watch the chefs prepare the tastiest of tapas and dishes. It's crowded, there's so much going on at the same time, but without it ever becoming chaotic. The food is top-notch. A great way to pass the evening.
22 President, Pompei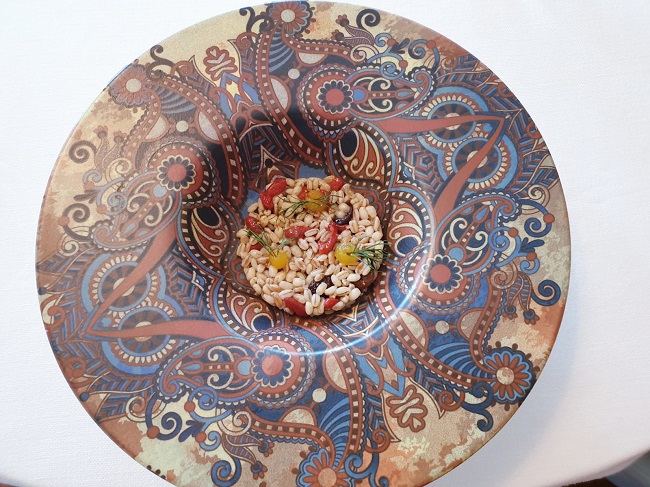 Chef Paolo Gramaglia is inspired by the old Roman recipes in his charming restaurant near the ancient site of Pompei. A culinary trip that connects the past to the present and future. Imaginative and original dishes.
21 Tawlet, Beirut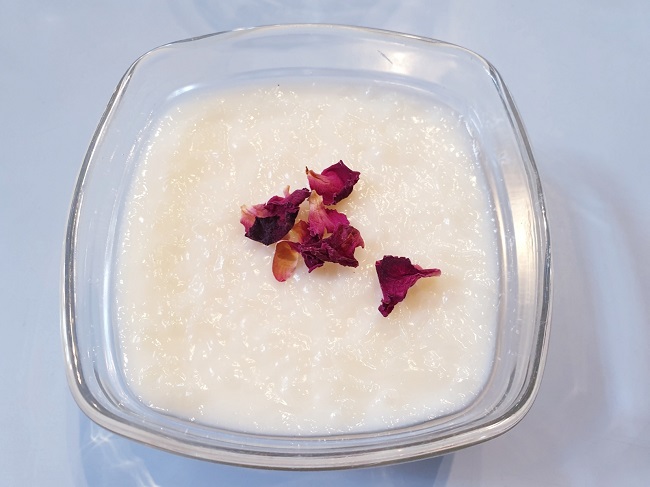 It's a women's world and we're happy to live in it. Tawlet celebrates Lebanese home-cooking and preserves the traditions and dishes that are worth cherishing. Everyday a lady from a different town is in charge of the kitchen, so you get a taste of real Lebanese cuisine apart from the ubiquitous hummus and tabouleh. Ignore the unsightly neighbourhood and enter the world of Tawlet where beauty and femininity reign.
20 Tsuru to Kame, Tokyo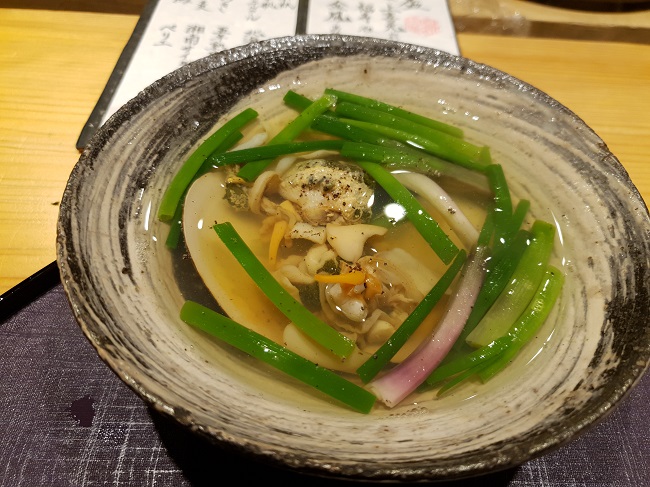 The fine art of traditional Japanese kaiseki executed by an all female staff in this lovely restaurant that defies traditional patterns and expectations. Whoever claimed kaiseki can only be prepared by men has clearly never tasted the delicate dishes at Tsuru to Kame.
19 Daalder, Amsterdam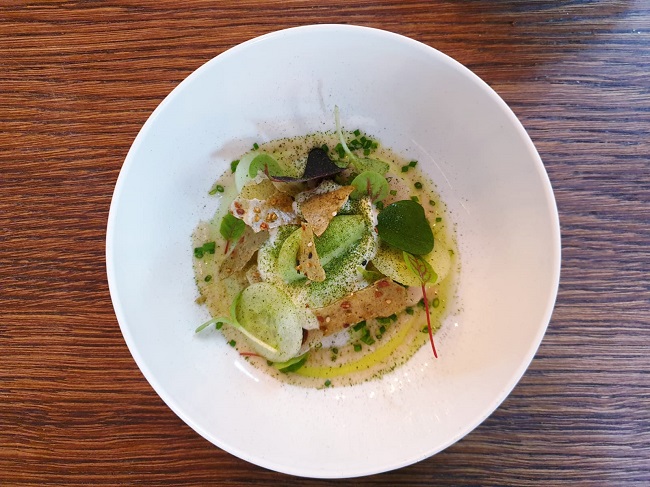 Our winner of Best Dutch restaurant and chef 2019. Young chef Dennis Huwaë is the rising star of Dutch gastronomy. Daalder combines the relaxed vibe of an Amsterdam café with excellent food.
18 El Club Allard, Madrid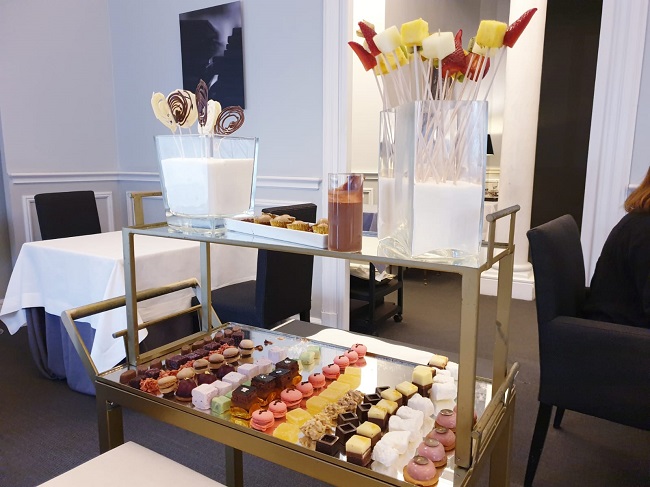 We were sad to learn María Marte had left El Club Allard, but then we tasted Chef José Carlos Fuentes' fantastic menu and fell in love with his wonderful ode to Spanish and Japanese gastronomy. And that was even before the cart full of petits fours was brought to us.
17 Fiorenzano Pizzaioli and 50 Kalò, Napels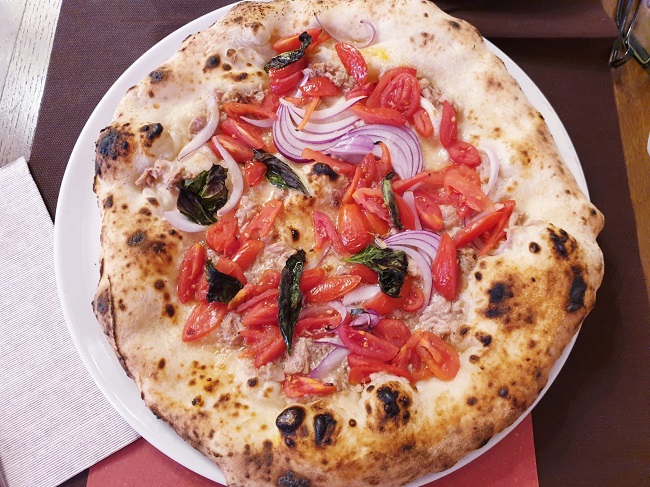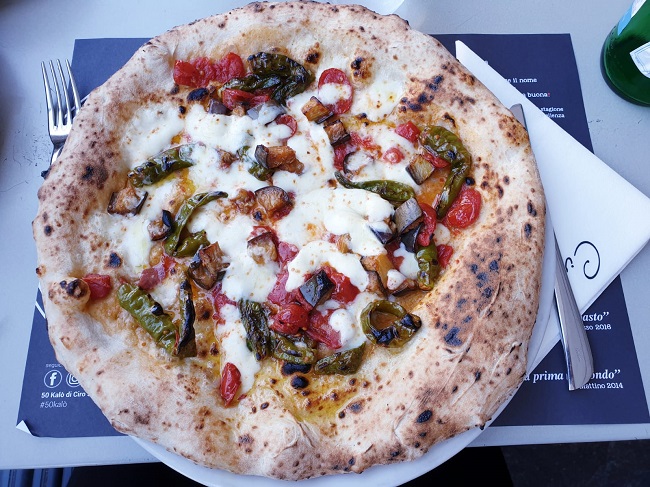 Neapolitan pizza's are an epiphany. The soft and light as air dough, the subtle use of ingredients to layer the pizza. No kilo's of cheese, hundreds of veggies or weird combinations. It's the simplicity that does it. And the excellent craftsmanship that we haven't seen or tasted anywhere else. We couldn't choose between the unassuming Fiorenzano Pizzaioli dal 1897 and the more modern 50 Kalò, so they share a joint position (which makes this list one of 26 restaurants instead of 25, but who's counting).
16 Mirazur, Menton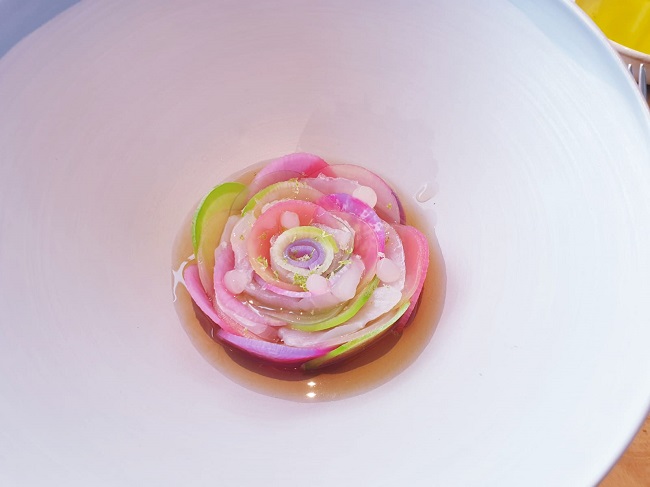 Being voted best restaurant is a blessing – and a little bit of a curse, because it raises the expectations of guests. We had hoped for an emotional roller coaster on the rythm of the dishes, but alas. Of course, the execution was faultless, the technique immaculate. But food and eating are about emotion, about unexpected feelings and excitation and we found ourselves enjoying the dishes but missing that coup de foudre. Our excitement came with the pre-dessert of prickly pear and a gooey dessert of chocolate, burnt rosemary ice cream and Sospel olive oil.
15 Ikoyi, London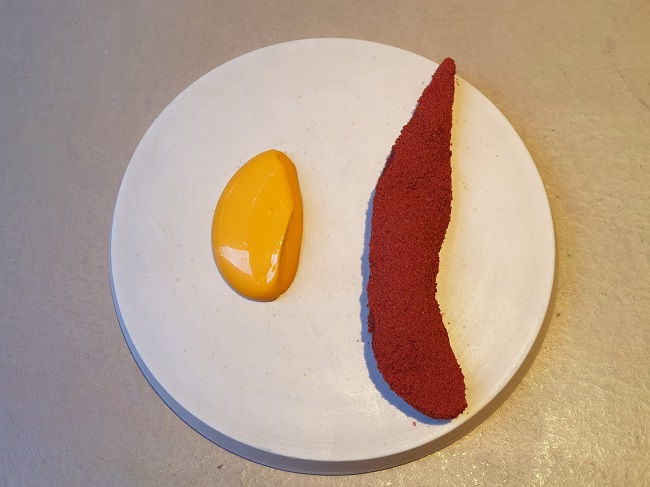 Walking into a restaurant that is inspired by West-African cuisine and then finding a bunch of white blokes in the kitchen is a bit, how shall we put it, surprising. But then there's nothing ordinary about Ikoyi which was founded by Iré Hassan-Odukale and Canadian-Chinese chef Jeremy Chan who also helms the kitchen. The food is amazing.
14 Odette, Singapore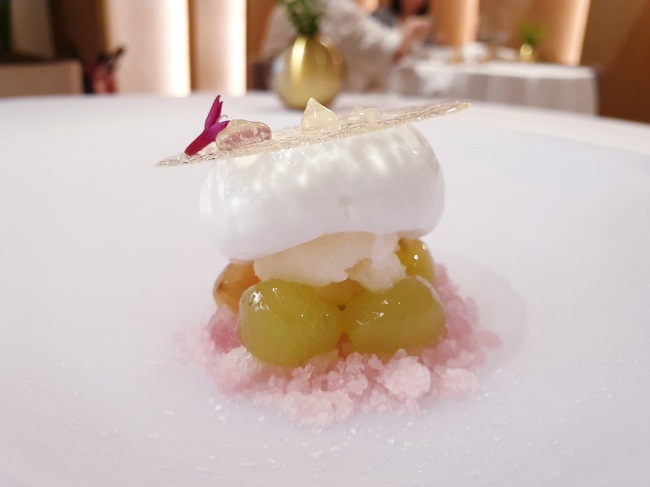 Chef Julien Royer serves nothing short of edible poetry in a serene environment. French classicism meets Asian gracefulness and the result is delicate beauty.
13 Mingles, Seoul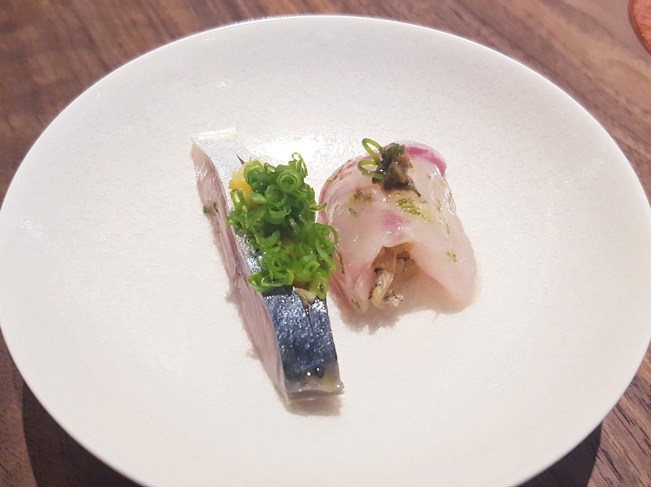 Modern Korean cuisine. Elegant and sometimes playful dishes full of flavour, like the peach steak, a popular Summer dish that gets a special treatment by chef Mingoo Kang. Truly fantastic.
12 Lima, Londen/Dubai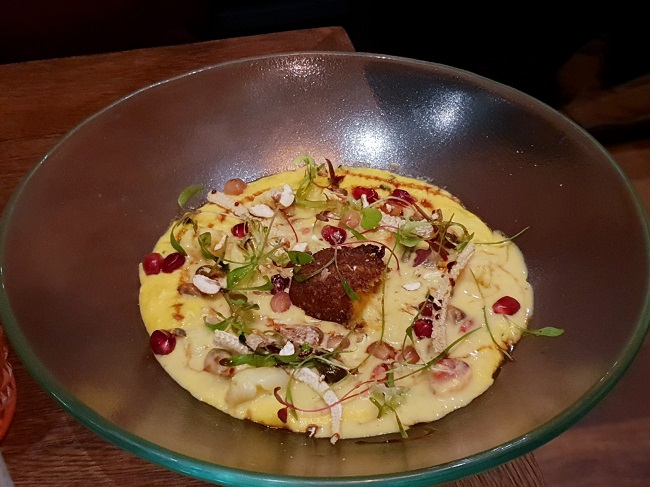 Can you tell what's on the picture? It's a corn ceviche. Sounds totally uninteresting, but was one amazing, unforgettable taste explosion. It was delicious. We have been craving that corn ceviche ever since, but it's been taken off the menu. I think we can easily classify that as a crime against humanity. We want our corn ceviche, Lima – and the seafood rice, the tasty chicken and exceptional pulpo.
11 Locanda Locatelli, London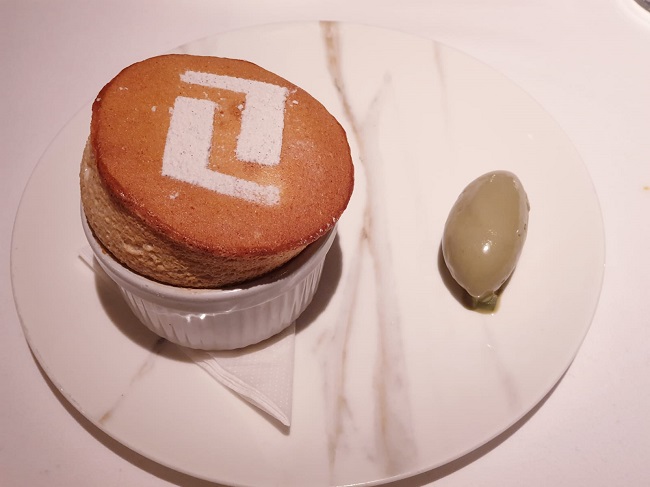 A reliable favourite on our list. Wonderful pasta, great Italian food and on our last visit we had one of the best soufflés ever: a panettone soufflé with candied cedro. An 'oh my God' escaped my mouth upon the first bite. It was that good.
10 Darjeeling Express, London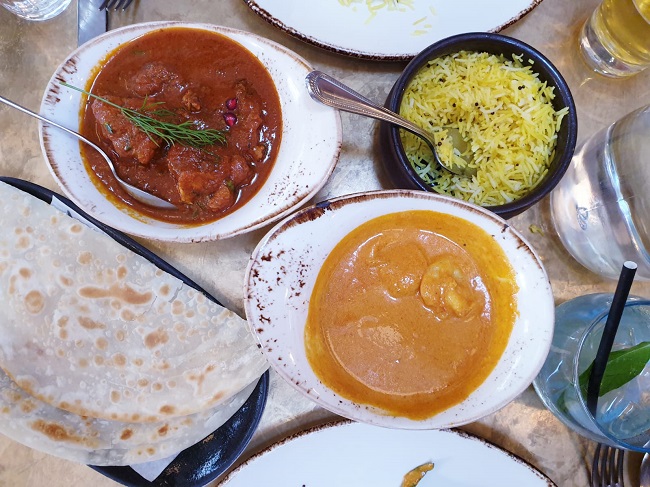 We love Asma Khan's Darjeeling Express. We love the food, the atmosphere, the all female staff in the kitchen and we love what it stands for: emancipation through cooking and the love that food gives.
9 Burnt Ends, Singapore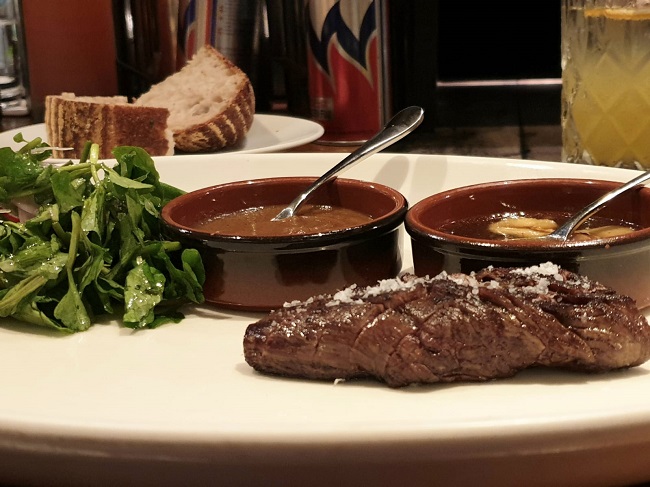 A delayed night flight meant going straight from the airport to Burnt Ends with our lugggage and messy hair and it was all good. What a fun place. It has the air of a relaxed grill joint, but what comes out from that grill oven is exquisite. Not just amazing meat dishes, but also wonderful snacks, creative dishes and the best pavlova to date. Top gastronomy without the frills and the pretention, and diguised behind a hipster beard and sturdy look.
8 La Dame de Pic, Paris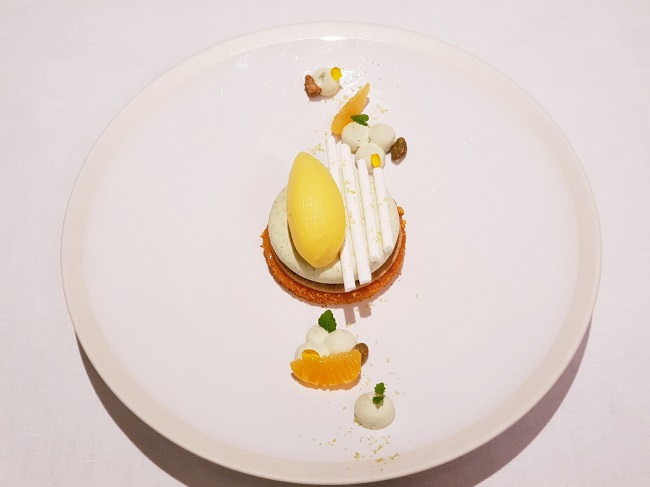 Anne-Sophie Pic is the epitomy of French culinary elegance. Her food is delicate, stylish and always full of flavour. You can't go wrong with La Dame de Pic in both Paris and London.
7 Yauatcha, London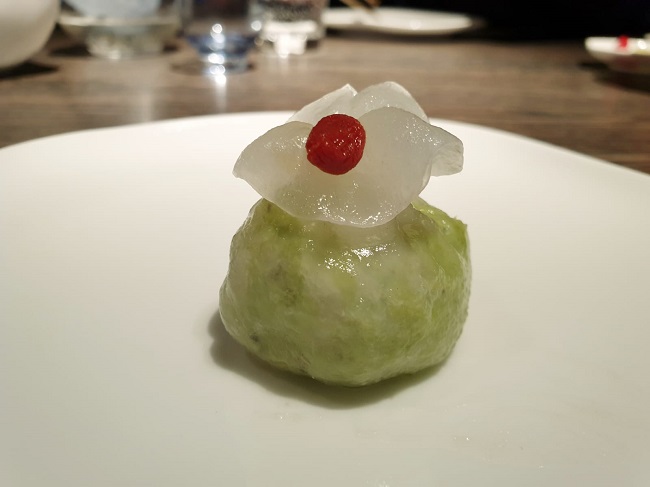 Another firm favourite. Yauatcha has been on our list since the very beginning and our love hasn't faltered. The best dim sum we know of. Wonderful little parcels, steaming hot, full of joy.
6 Indego by Vineet, Dubai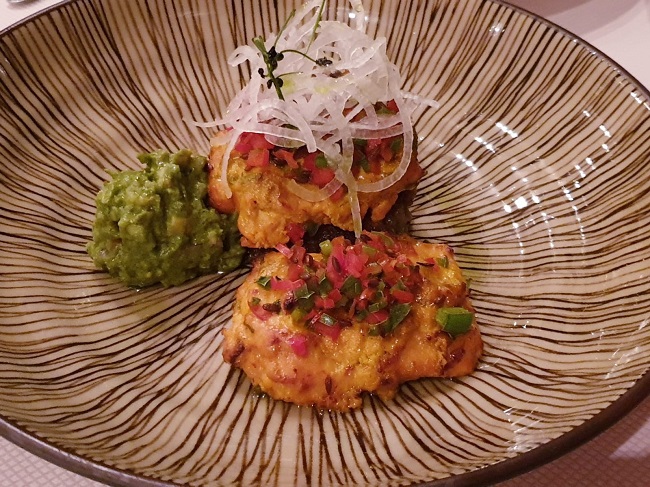 Perfect Indian food by Vineet Bhatia who not only masters the traditional dishes and elevates them to a gorgeous level of refinement, but also offers delicious modern bites with that unmistakable Indian soul. Don't miss his little restaurant in Harrods' food hall where we had a delectable lunch with wonderful seafood and scrumptious curries with the most tender of lamb and chicken.
5 Babel, Beirut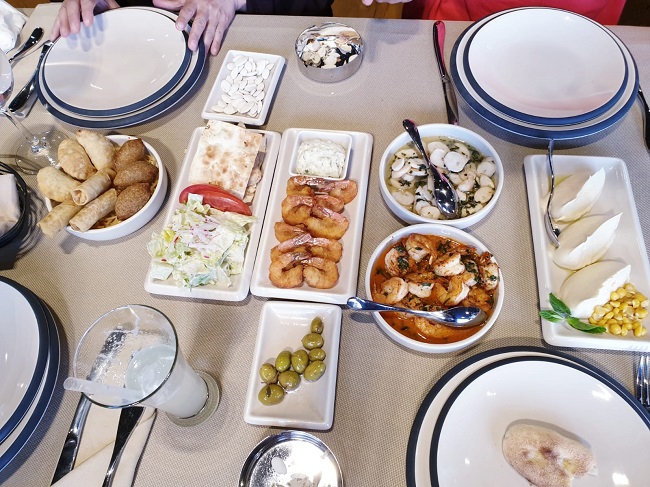 Our favourite restaurant in Beirut, or rather restaurants: Babel Dbayeh serves up excellent Lebanese food, both the traditional dishes and the modern interpretations are immaculate in a setting that evokes historical grandeur. Babel Zeytuna is a posh restaurant by the harbour specialized in seafood, as is Babel Bahr, one of the most beautiful and romantic restaurants near the ancient town of Byblos; excellent seafood dishes and modern interpretations of classical dishes by the seaside. The future of Lebanese food, rooted in tradition and with a contemporary heart.
4 yam'Tcha, Paris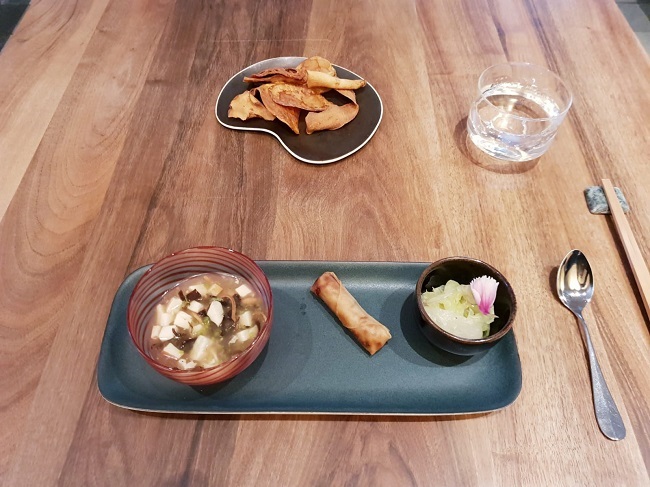 Adeline Grattard's yam'Tcha is a reflection of the loving bond between French and Chinese cuisine and culture. Grattard is not afraid to spice up her dishes and her bao with stilton cheese and cherries is the closing argument for multiculturality and intercultural love.
3 Esora, Singapore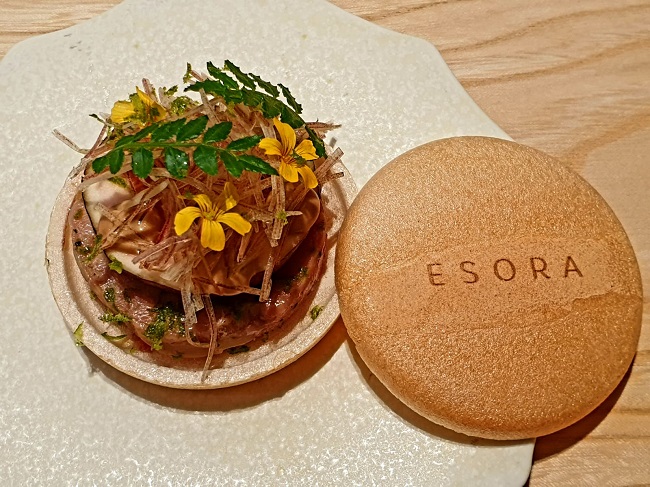 Stunning food prepared in front of you in the typically minimalist Japanese style. This was the best meal we had in Singapore (and there was no lack of excellent food there). Modern Japanese kappo-style, creative, innovative, new and exciting flavours and a gorgeous presentation. Chef Shigeru Koizumi is going to be a big one.
2 Lindehof, Nuenen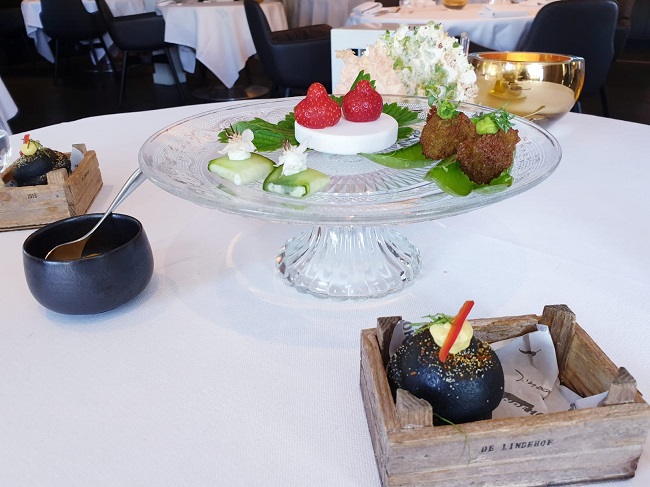 Up two places from last year, Soenil Bahadoer and his Lindehof that explores Surinamese and Indian flavours and marries them beautifully in his progressive cuisine. Bahadoer bursts with personality and spice, his restaurant is one of the most hospitable. We love and adore him and are so very happy that he continues to explore his roots and translate them into delectable dishes you will find nowhere else. Eating at De Lindehof means getting a taste of Soenil's vibrant, exuberant, warm and generous personality.
1 Anago No Uotake Sushi, Shizuoka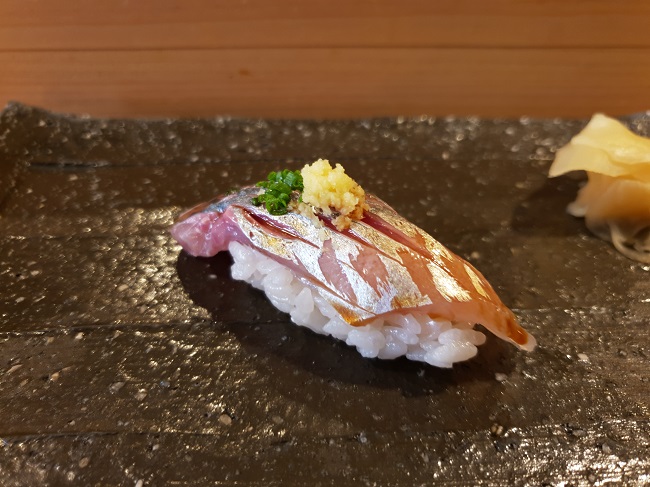 You must have one hell of a personality to defy tradition and follow in your father's footsteps as a sushi chef when you're a lady in Japan. Yumi Chiba challenged society, proved that women are perfectly capable of being a sushi chef and cleared the way for other colleagues who are rolling up a sushi storm.
Anago No Uotake Sushi is Chiba's little culinary temple where guests are made to feel at home and treated to delightful sushi that is a wonderful expression of Yumi Chiba's persistent, yet soft and warm personality with which she distinguishes herself.
So, it is with great pride that after D'Stage in 2016, Enigma in 2017 and El Celler de Can Roca in 2018, our Aicha Qandisha Award goes to Yumi Chiba and her Anago No Uotake Sushi.
Happy New Year everybody! May it be healthy, happy and extremely yummy.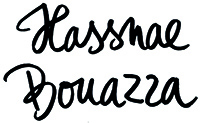 info[at]aichaqandisha.nl